2001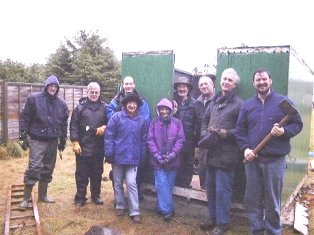 A 10" reflecting telescope, rotating shed, numerous slides, books and a Sky Sensor Computer were purchased from the estate of a Mr. Don Smith. The rotating shed was dismantled in a blizzard by an enthusiastic gang of members and stored at Jim Savage-Lowden's house until it could be renovated.

Rob Nuttall and Maarten de Vries conducted an in-depth survey of the Abriachan site in order to provide enough information to decide on further development. However, after a lot of thought and discussion, the Abriachan site was decided against and an astronomical wood-henge was proposed instead.
Culloden battlefield was chosen as the new site for an observatory although this was only temporary.

Talks were given to Scout groups, and the first open day for HAS attracted many members of the public.

The tube of the 12" telescope donated in 1997 was deemed to be beyond repair, so the mirror was used in a Dobsonian telescope, built by members Maarten de Vries, Antony McEwan and Rob Nuttall.
---