4000 Years of Astronomy in The Highlands
From March 21st to 28th, Highlands Astronomical Society organised and ran this mini festival as part of IYA2009 (International Year of Astronomy), which focused on astronomy in the Highlands of Scotland through history. A varied programme of events was developed, which included thought-provoking lectures, innovative hands-on features and uplifting observation of the Highland sky. Floating the mouse over the small pictures will show a description, and clicking on them will open up larger versions in a new window. All pictures by Pat Williams.
Saturday 21st March 2009
The first events to take place on Sat 21st were aimed at younger people with an interest in astronomy. They included talks on the solar system, the making of Moon and Sun dials, quizes, rocket making and launching, and tours of the JSL Observatory with its huge computer controlled telescope. Viewing of the Sun through a specially filtered ETX 125 telescope was also available, and this was manned by Andy Ferguson, though unfortunately there was hardly any solar activity to observe.
| | |
| --- | --- |
| | Sungazing with Andy and Jean |
| Bang! Making Sundials can be a noisy business - as Tim Schroder demonstrates! | Pauline Macrae presents the theory behind comets - before making one! |
Dozens attended, and the rockets were a huge success as expected, courtesy of Donald Noble. They were also popular with many of the adults too! This was indeed rocket science, but was fun as well. Pauline Macrae gave a talk on comet theory and then put it into action with one of her (in)famous demonstrations of comet-making with readily available materials.
In the evening, there was a talk by Howie Firth MBE, entitled "The Bear and The Ship". Arthur Milnes had this to say about it:
"The Mini Science Festival got off to a splendid start with a talk by Howie Firth M.B.E. entitled, (rather intriguingly) "The Bear and The Ship". Howie, a master of the storyteller's craft, developed a tale of myth, astrology and, towards the end, ancient astronomy.
Howie Firth MBE

The Bear and The Ship
- a talk by Howie Firth
Starting in the Orkney and Shetlands, he showed how myths of strange happenings and portents of ill could be traced across to Scandinavia, southwards to the Tyrol and, travelling in time and distance, back to the Mediterranean and Egypt. The origins of such tales, he showed, could be linked to celestial observations by the ancients; some links strong, some tenuous, but overall resulting in a facinating talk, well appreciated by an audience of some 20 persons in a venue, St. Mary`s in the Field Church, Culloden, which was in every way a very satisfactory meeting place."
Sunday 22nd March 2009
Sunday was dedicated to the Picts who dwelt in the Bronze Age. The Clava Cairns were the subject of a talk given by Dougie Scott, an expert in the field (literally) who has spoken to the Society before about these ancient people, their stone constructs, and the possible astronomical interpretations of them.
Dougie Scott giving his presentation
on the Clava Cairns
The mysterious "cup marked stones"
at Clava. The marks were possibly
created by ritualistic actions
The talk and video was followed by a guided tour of the eerie Clava Cairns themselves, with Dougie pointing out the various points he covered in his presentation. It was cold and windy weather, but nevertheless, several attendees joined Dougie in a walk around the site, noting the various objects of interest that he pointed out.
Attendees started off listening to
Dougie in the warm...
...before venturing up to Clava itself to
brave the cold!
Monday 23rd to 27th March 2009
These days and nights were not devoid of activity. Astronomical talks were given by Pauline Macrae and Trina Shaddick to local schools (Merkinch Primary, Duncan Forbes Primary, Cradlehall Primary and Smithton Primary) where the subject matter was eagerly absorbed by keen young minds! Questions were asked and answered, and hopefully some interest in our Society's "Youngstars" junior section was developed.
Each evening from Saturday through Thursday, the JSL Observatory was manned by members of the Society's Observatory Team, to enable the public to make use of our fantastic new telescope: a 14" computer controlled Meade LX200R. Sadly, the weather was not overwhelmingly favourable, but there were still some chances to view astronomical objects through the week. Reports of outstanding views of Saturn, with its rings nearly edge-on to us, were passed among the membership, and (as usual when the telescope is employed) the dome resounded with the "ooh"s and "aah"s of lucky people getting their first telescopic views of the ringed planet, as well as other astronomical targets.
Saturday 28th March 2009
There was something very special lined up for Saturday at the NTS Visitor Centre: a visit by two students from Glasgow University - with their inflatable planetarium! Euan Bennett and Fraser Watson brought their dome-in-a-sports-bag planetartium and gave shows within it. News of their attendance obviously preceded them, as some people travelled from as far away as Sauchen to see it in action! Arthur was again on site, and had this to report:
"Sat. 28th March saw one of the two final events of the week-long science festival. The penaltimate afternoon event was a presentation in a splendid inflated planatarium at the Culloden Visitor Centre, by 2 Ph.D. students from Glasgow University. The planatarium, holding up to 27 persons (officially - Antony) proved a great attraction to everyone from age 2 to -well!-70 at least! Their programme included a detailed tour of the night sky and a display of the mythical bodies describing the constellations of the Zodiac. The excitement of actually entering the planatarium (a hurried crawl into darkness before the structure collapsed) only added to a very worthwhile and well attended show."
The late afternoon and evening were given over to Professor John Brown, the Astronomer Royal for Scotland. A regular visitor to the Society and a keen supporter of our Observatory project over the last few years, it is always a pleasure to have Prof. Brown entertain us with his light-hearted but thought-provoking talks on astronomy (and magic)! Prof. Brown was assisted by Gill Russell, an astronomy-inspired artist who has collaberated with the Astronomer Royal in helping primary schools throughout Highland and Aberdeenshire create a new constellation for IYA2009. The Moon featured strongly in this feature, and after the main talk was over Prof. Brown and Gill led a "Moonwalk" outside and around the Visitor Centre area.
Prof. John Brown sets up before his lecture
Pauline Macrae introduces Prof. Brown's talk
- with the latest state of the art lunar image
captured by the Society's 'scope as backdrop!
For once, the weather cooperated fully, and a beautiful crisp 2-day old crescent Moon shone down on those assembled in the chilly battleground. Observations at the JSL Observatory followed, including a sighting of the International Space Station, rounding off a week of intensive astronomical and historic activity as part of the International Year of Astronomy 2009.
| | |
| --- | --- |
| | |
| Viewers await appearance of the ISS | The perfectly timed crescent moon |
We would like to thank all the Society members who turned up to support and help out at the events, and all those who organised the ambitious project, particularly Pauline Macrae and Pat Williams. Arthur and Lorna Milnes, Pat Escott, Ian Drysdale, Andy Ferguson, Trina Shaddick, Maarten de Vries, Eric Walker, Linda Moncur, Tim Schroder and all the others who helped organise and run the observing sessions.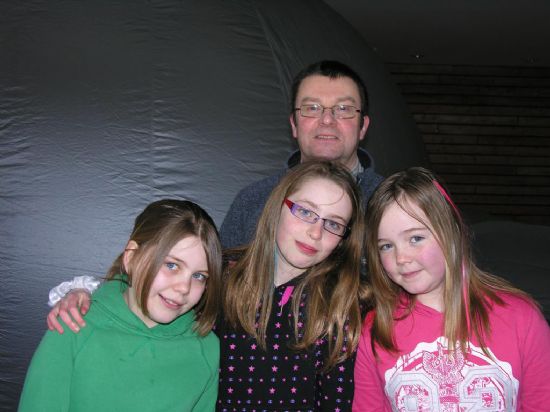 We hope that all who attended the events left with the feeling that they had taken part in something that was exciting, enjoyable and educational. Certainly the visitors pictured to left here outside the inflated planetarium left with smiles on their faces, but then one of them was one of the organisers, Eric Walker! Many visitors expressed their thanks by contributing to the Society's donations bucket. We are a registered charity and depend to a great extent on donations from those attending our ventures, so this is greatly appreciated.
Advertising for the festival was provided by means of a superb poster designed by new committee member, Donald Noble, which can be seen here. Gaelic was included in the promotional material, to show that the language is still being used in the Highlands and is a living link between the ancient stargazers of times past and today's computer-equiped modern astronomers. Funding was provided by Highland2007's legacy programme, to whom we are very grateful. Finally, the NTS are to be thanked too, for allowing us to use their splendid new facility at Culloden Battlefied to run the events, and for allowing the Jim Savage Lowden Observatory to be built on their land.
---