November Club News
Added on 08 November 2019
November Club News presented to Members & Visitors at our last Monthly Club Meeting on Tuesday 5th November 2019.
Chairman's Chat
Eric opened the meeting by welcoming members, guests, visitors from SIGMA, and the several first-time visitors which is always a pleasure to see.
We have carried out an essential repair to the Observatory - a broken step leading to the dome had to be replaced - and it is clear that, with the observatory being in its 11th year, that a more detailed inspection will have to be carried out with the outcome of a 3-year maintenance & operation plan. We won't bore everyone with the details of the plan, however, if there are any financial implications for the Club then we will need to inform you.
HAS hosted 13 members from Aberdeen Astronomical Society on Saturday 26 October with Eric, Pauline, and Dave representing ourselves. We must thank AAS for their generosity in treating us to a meal and it was heartening to see they brought members with a good range of age - from youngstars to much the more experienced!. It was a very successful encounter with one idea in particular which deserves further exploration -
The north of Scotland is now covered very effectively with amateur astronomy clubs from Caithness right through to the north-east by Caithness Astronomy Group, Highlands Astronomical Society, SIGMA (Moray's Astronomy Club), and Aberdeen Astronomical Society. We all experience common issues and there is the potential to derive mutually beneficial solutions. Perhaps one of the most tempting benefits is that an association could add combined strength and effect to campaigns such as light pollution. A potential work in progress for the Chairman!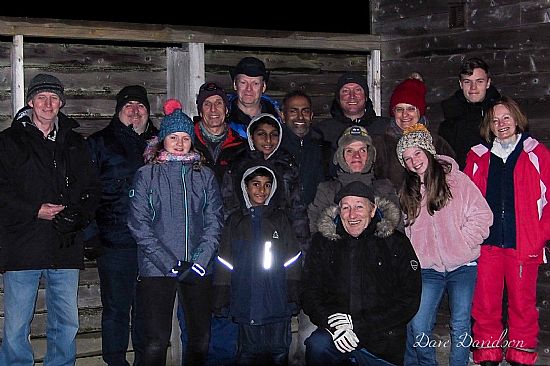 The main Outreach events coming up this month are
the Mercury Solar Transit with a public session taking place at UHI Inverness Campus, An Lochran this Monday 11th November from 12pm until 4pm (sunset). Helpers/volunteers to assist the Observing Team would be very much appreciated.
Eric is giving a talk to Loch Ness Rotary Club this Wednesday 13th November and will let them see what we get up to, how we run our Club, and, in particular, the public & community activities we get up to.
In line with our Club Aims of Keeping It Simple, Straightforward, and Accessible and For The Members we have distributed Feedback/Comment/Suggestion Sheets & Pencils on the tables. We encourage you to use these to help the Committee shape the club to YOUR needs.
Eric drew members attention to several key points in the Notices then introduced Gordon Mackie, Chairman of Caithness Astronomy Group, who presented his excellent talk "Astronomical Alchemy" (Members can read a summary of this talk in their e-mailed copy of Stargazey Pie).
Dave Davidson compiled the Monthly Club News report which is attached as a PowerPoint presentation
The presentation contains news, updates, and photos of the following
Observatory News
Binocular Challenge
Mercury Solar Transit
Members Photos
Clear skies
Eric