Observations
A page dedicated to reports of observations of new astronomical phenomena, made by club members.
Supernova in M82
Excellent Seeing Conditions overnight 23/24th January allowed several members to include in their logs "Supernova in M82 observed". For some it was a first, but for others it brought back wonderful memories.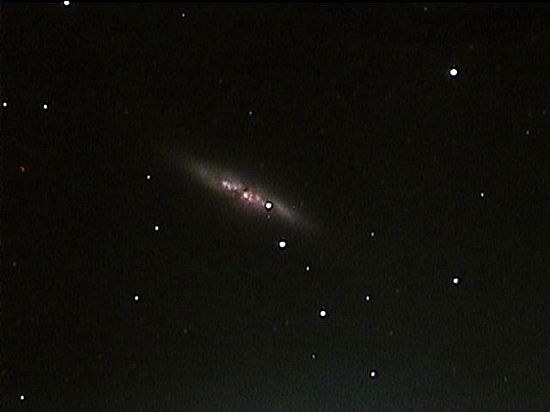 Image Maarten de Vries, taken from the Black Isle on 2 February, using a 6" reflector and Huveron Colour video camera
James Hitchmough emailed after observing with 80mm binoculars, "I'm so lucky to have seen 2 different Supernovae in 2 different Galaxies in my life so far" while Antony McEwan (10" Dobsonian) commented, "a bright pinprick star, out along the central section, nearer to the end than to the central core. A wonderful thing to see".
Paul Jenkins made this observation with his 12" Dobsonian, "An unmistakable pinprick of light right in M82 just where the one-minute-astronomer guide said to expect it. I'm so chuffed!" (and even dragged wife Helen out to see it - good man!)
It is understood that the Supernova will be viewable for just a few more weeks. More information is available online, here for example.
---