The Case For Aurora

The plan to involve the UK and why we must
By Jerry Stone FBIS FRAS
www.geocities.com/uk4aurora
Aurora is a long-term programme set up by the European Space Agency to explore the Moon and Mars, initially with robotic probes, leading the way for manned missions to both targets. It has a defined programme of missions stretching over the next 30 years, and the first two are already in progress: SMART1 has reached the Moon, testing a new method of spacecraft propulsion - ion drive - and Mars Express is in orbit around the red planet, sending back excellent data.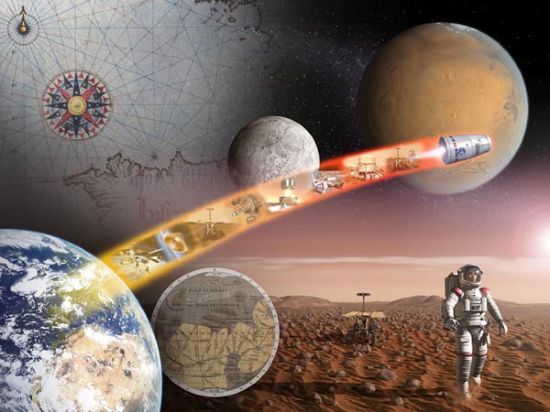 Why should the UK be involved?
Involvement in Aurora will offer opportunities for various branches of UK science, engineering and research. It will provide jobs in the UK space industry and associated areas. Additionally, a MORI poll showed that the general public looks on space exploration as an area which inspires national pride and self-esteem. Also, very importantly, Aurora will provide inspiration for the next generation of scientists and engineers. These youngsters of today will be involved in the projects of tomorrow.
The Research Councils, such as the Particle Physics & Astronomy research Council (PPARC), and other bodies such as the Royal Astronomical Society, are in favour of UK involvement, stating that there is compelling evidence for a strong and leading involvement in Aurora, and that the UK should take a leading role in the scientific and technological development of the programme.
Why is action needed?
Aurora funding is split into 5-year phases, and ESA member states sign up at their agreed level for each period. When a new 5-year period begins, a member may revise their level of contribution. However, in June 2004, the start of the next 5-year phase was deferred until 2006. As a consequence, ESA asked for an interim payment to cover the intervening period and the UK needed to make a decision by 30 September 2004. Public support resulting from the actions of UK For Aurora contributed towards a favourable decision, but this is not the end of the story. Further action is needed in support of a positive decision on signing up to the next 5-year period to start in 2006,
to ensure that the UK does not miss out on this exciting, challenging and rewarding venture.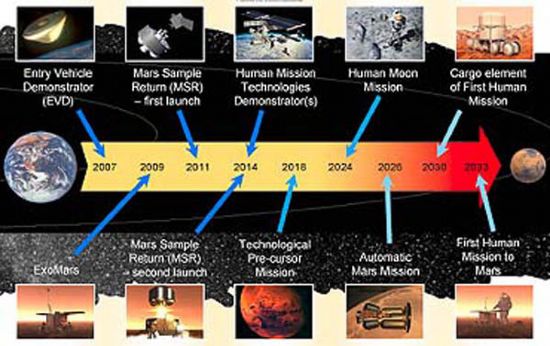 What are the costs?
The annual subscription during the next 5-year period will be £25m, the equivalent of less than 50p per person. Further cost comparisons – which show how relatively low this amount is – can be found on my website. ESA funding rules mean that each country is awarded contracts to the level of their subscription, so we shall not lose out financially.
What can you do to help?
The decision on the UK's involvement will be made by the Office of Science and Technology (OST). You can help ensure that a favourable decision is made if you write to express your support for the UK's involvement in this project. The relevant people to contact are:
• Sir David King, Office of Science and Technology, 1 Victoria Street, London SW1H 0ET
• Prof. Keith Mason, Chair, PPARC, Polaris House, North Star Avenue, Swindon, Wiltshire, SN2 1SZ
You can also write to the Minister for Science and Innovation:
• Lord Sainsbury of Turville, House of Lords, London, SW1A 0PW An advantage of writing to Lord Sainsbury would be to widen the support, by asking him to show his support to the OST. Although it is presently not government policy to be involved in manned space projects, the early work on Aurora concentrates on robotic missions, of which Lord Sainsbury approves, so there should be no conflict. You could go wider still by writing to your MP , asking them to speak to Lord Sainsbury. You can find MP's contact details at
http://www.parliament.uk/directories/directories.cfm I have already written to all four contacts.
I have set up a website – www.geocities.com/uk4aurora – to help raise public awareness of Aurora and the benefits for the UK of involvement in the programme. It expands on the information above and encourages people to write to those involved in the decision-making process, expressing their own support. You can find further details, including cost comparisons and suggestions of what to say in your letter.
What else can you do?
• Tell other people – family, friends, work colleagues, other groups.
• Contact your local radio and newspapers. Send them this information. If you don't feel confident about talking to them yourselves, put them in touch with me.
• Arrange for a presentation on "The Case For Aurora". This can be given to any group – it doesn't have to be a science or space society. See the website for planned presentation dates. There is much more information about the campaign on the website. Please do what you can to help and let me know of your actions. Contact me at uk4aurora@yahoo.com
Aurora will go ahead – We must decide whether to take part in this exciting challenge and reap the rewards, or whether we will merely be spectators in the exploration of Mars.
At last year's annual Festival of the British Association for the Advancement of Science, BA President, Dame Julia Higgins said "the views of the public should form the basis of decisions on science made on our behalf".
Here is your opportunity to do exactly that.