'The Great Aurora' ... Sunday 26th February 2023
Added on 27 February 2023
Sometimes the Fates conspire to bring about a rare moment when time and space align to create an event that borders on magic and remind us of the power and majesty of nature and our place in it ... Tonight was one of them!
It started with a clear, cold but beautiful sky at tea-time and the word went out that we would be hosting another session of observing at Culloden. I got there at 6pm nice and early, though not as early as Gerry who was already in the process of opening up and setting telescopes in place, and after exchanging greetings I put my 8inch reflector on it's mount and started looking at the Moon.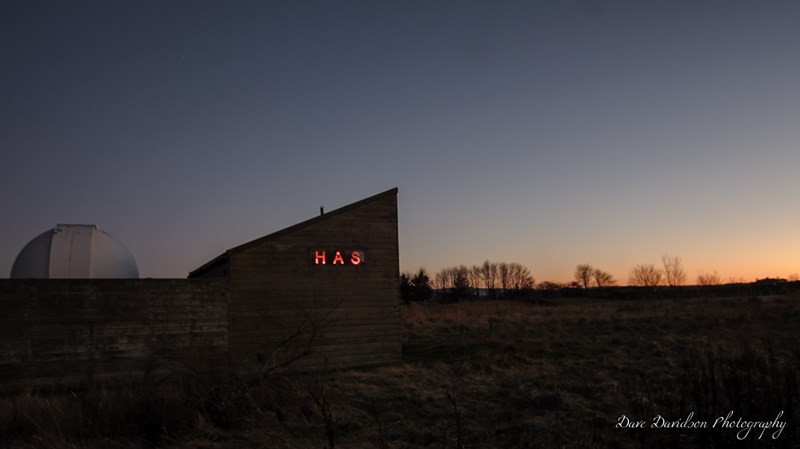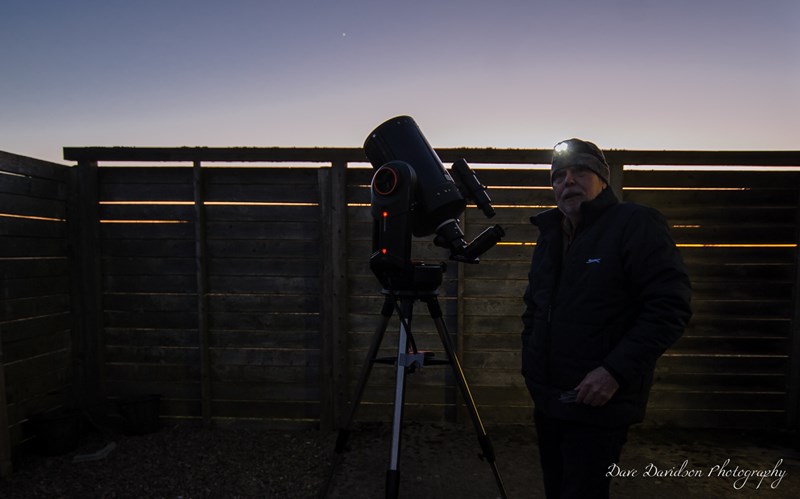 The 'seeing' conditions were just amazing and the image of the moon was sharp and clear with no 'wobbling' air to disturb it. No matter how many times you look at the Moon and, trust me in my case that's a lot of times, it never fails to delight and the views of the towering rims of the craters and vast plains of chalk-like grey dust stood out in spectacular relief.
So while I sat musing at the wonder of the Moon other people began arriving, Pauline, Paul, Szabi, Rhona and, as it was getting dark now, several others who I failed to recognise (apologies).
Pauline had brought her I-Optron sky tracker and camera with her so I helped her to set it up and align with the Pole Star and that done she took a photo of M42 the great nebula in Orion and wow! at last, a clear image and sharp, stationary stars. Pauline was of course delighted with this result and just as she was thinking of her next target guess what happened? ... That's right, her battery went flat! Astro-photography is always a bumpy road and constantly mined with pitfalls such as this. A star tracker takes about 5 hours to re-charge so that was the end of that mission for the night.
Paul and I teamed up for a while and did some galaxy hunting with his 8inch relfector and had some success despite the half-moon glaring down at us out of the velvety indigo sky and we saw M108, M1 M109, M97, M81, M82 and several more that I can't remember the names of so I think you could count that as a triumph given the conditions. The 'rule book' says don't bother looking for DSO's when the Moon is out but hey! rules were made for obedience of fools and the guidance of wise men!
More visitors were arriving including a small group of guys on holiday from Spain and Gerry and Pauline took them to the dome and showed them a few of the sights with the big 14 inch telescope. There was so much to see it was hard to focus on anything; the Moon was occulting a star, there were so many satellites flying over us that it looked like a meteor shower in slow-motion, and the nebulas were clearly defined in the eye-pieces of the telescopes.
This busy scene was interupted when I noticed a pale green glow arching across the low horizon to the north and I alerted the others to come and see what might be an aurora forming.
A crowd of us gathered outside the compound and watched in utter amazement as the faint eerie glow became an almost choreographed light show! It started with a huge pulse of light in the shape of a giant arch that shot away from the horizon all the way to the zenith! Immediately after that tall spikes and fingers of intense green flickered into life and rode along the arc of the horizon each towering up in the sky. Waves of green and red swirled among the spires of light and all stretching from the West all the way to the East. As the time went by the intensity increased and new wonders were unfolding, ghostly shapes appeared and raced amid the chaos of light that was everywhere you looked, it would appear to fade momentarily then come back more spectacular than before! We stood ... astonished!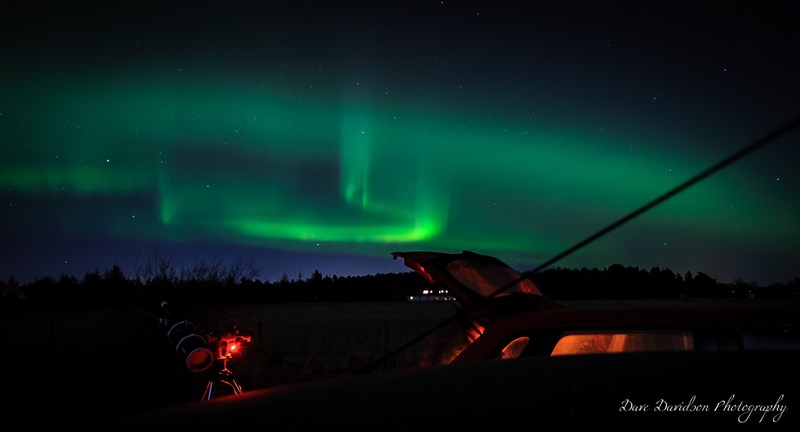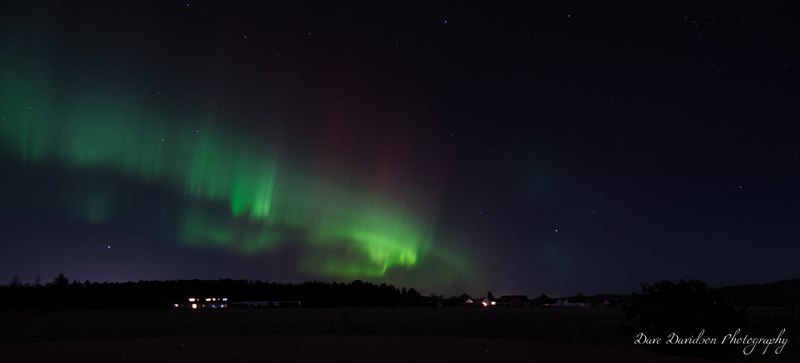 Pauline was desperately trying to take photos and I was so mesmerised that I hadn't thought to take a photo, though Pauline's efforts prompted me to grab a camera from the car and I tried to record the event as best I could with no tripod and just resting the camera on the roof of the car. Regardless of the Moon, it could not overpower the force of the aurora and even if you were surrounded by streetlights I think you could not fail to notice it, indeed later posts on Facebook etc would show that many folks did just that from within the city! On it went and lasted for almost an hour without diminishing in strength and it captured our full attention for the whole period (we could see stars and galaxies another time). It has been a long time since I have seen an aurora as awesome as this one.
It makes you wonder doesn't it?; the Sun reaching out it's tentacles and tickling the upper atmosphere of our wee planet to create something that makes people forget the every-day things and just stand together under the night sky as equals, all humbled by the immensity of the power of nature. So all good things come to an end and eventually it was time to go home.
It had been an amazing night at the observatory and I think it is fair to say that these meetings just get better and better! Great company and wonderful sights. As I drove out of the gates at Culloden there were dozens of cars in the outer car-park and crowds of people with their phones and cameras. I would encourage anyone who wants to connect with nature and admire the wonders of the sky at night to turn off their TV's and drive up to the observatory, you will rarely be disappointed!