February Club News
Added on 07 February 2020
February Club News presented to Members & Visitors at our last Monthly Club Meeting on Tuesday 4th February 2020.
This well-attended meeting had a great atmosphere about it with HAS members, SIGMA members, first-time and returning visitors all participating throughout the evening. Our excellent Club speaker, Pauline Macrae, and the exciting news about our observatory both contibuted to give the night a real "buzz"!
CHAIRMAN'S CHAT
Eric opened the meeting by welcoming members, visitors from SIGMA and, first-time & returning visitors to our Club.
The Evening's Timings:
1930 Welcome & Notices (Eric)
1935 Main Talk (Pauline Macrae)
2030 Raffle (Pat E)
Thanks to Denis Bucynski for donating copies of the "2020 Guide to the Night Sky" as prizes
2040 Tea/Coffee
2050 Club News (Eric)
2100 Break-Out Groups
Discussion Group (Arthur)
Practical Group(s) – Astrophotography: Constellations, Clusters, & Aurora. This session is also suitable for first-time visitors & new members (Eric)
NOTE don't feel obliged to stay to the end of these groups. They are intended that people can leave whenever they want. If you want to stay just 10 minutes or the full hour, it's up to you
2200 Close
Exciting News
We are very proud to announce the most exciting news about our Observatory facilities and the astronomical feast our local Scottish Highlands-based Club can now offer its members and visitors. This really is a bold, innovative, and ground-breaking adventure for Highlands Astronomical Society! Read on .......
JSL Observatory Report
The weather has been mixed but we have been able to hold a few observing sessions – two of them were absolutely top-notch!
We have had many enquiries about our observing sessions via Facebook and our website …. and several of these have turned into actual visits. It's great when you see whole families turning up from granny, through mum & dad, to the kids.
It's especially satisfying when we see our own members turning up, and there has been a good turnout of us at the last two Saturday sessions.
Did I mention we have some exciting news about the observatory for you?
Highlands Astronomical Society has, since the building of our own Observatory 11 years ago, had the aspiration to be able to provide a video link from the main telescope to the warm room. We have had several attempts at this over the years, the best only being partially successful and certainly not up to the quality or standard we feel is expected in the 21st century. This has all changed!
Project 21C-ObSee is intended to take us to the forefront of members- and public-access astronomy and to future-proof it for years to come.
A small dedicated group from our Observing Team - Eric Walker, Gerry Gaitens, Dave Davidson, and Pauline Macrae - have been working hard over the past couple of weeks and successfully achieved the most wonderful amateur club & public astronomy viewing facility & service in the Highlands of Scotland, let alone the UK itself.
We have attached a high-spec astrocam to our 14" telescope in the dome and hard-wired it via a laptop to our TV flatscreen in the warm room. The images which can be seen well surpass that which the project team were expecting. The detail is superb, the objects which can be viewed are some of the finest in our night sky, and, instead of faint-fuzzy grey smudges, the images are in colour.
We have tested out the viewing experience at last weekends Public & Members Observing Sessions and they were immediately a great hit, with people staying to view the images for the entire session. There are teething troubles of course, for example, it's tricky to find the objects due to the very narrow field of view, but we have already overcome that and look forward to our next sessions. The feedback obtained from the first observers has been invaluable and is helping us quickly reach a point where we are able to deliver one of the the highest quality amateur astronomy observing experiences in the country.
This has opened up astronomy to those less able to participate in our passion for real-time observing of the night sky. Those with limited mobility, those who have difficulty with outdoors or cold temperatures are only some examples of the people who can now get practically involved.
We believe this is a game-changer for our Club!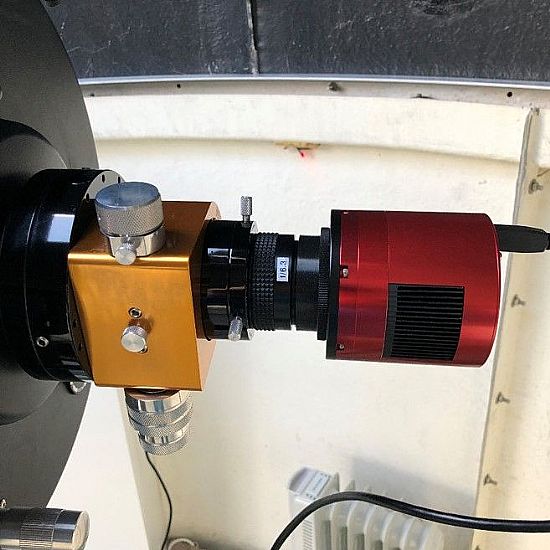 The hi-spec astrocam attached to our 14" telescope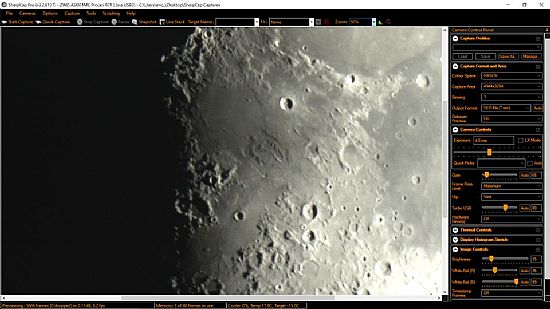 Screendump of what observers in the warm room can see - incredible detail of the 50% illuminated Moon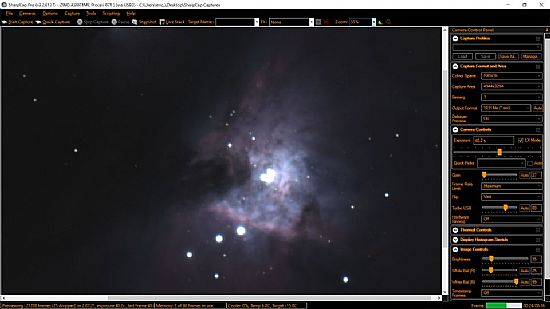 The colour & structure of the Orion Nebula (M42) as seen by observers in the warm room
Observing & Outreach
Eric gave a talk on Astrophotography to Inverness Camera Club the day after our January meeting and it went extremely well. It was good to be ably supported by long-standing member Donald Boyd who is now trying to persuade him to convert it into an updated astrophotography talk for us here at HAS
Pauline has four youth outreach sessions arranged at the observatory and is also going to visit one youth group direct
Eric will give you details of this month's Observing sessions and some more pics from our astrocam-linked observing sessions (see Dave's Monthly Club News below)
Because of our "exciting news" we definitely need a few members to take on the Host role at our Observing Sessions which takes the form of meet & greet and chaperone/guide as opposed to a technical observing role.

You don't need to be an experienced astronomer to help us out with this role and we would love to have a few of you volunteer for this.

BBC Sky at Night have contacted us via our website & Rhona directly and they want us to submit a short article, with photographs, about who we are, what we do, our observing & outreach sessions, and suchlike.

We are going to do photo-shoots at the next two Observing Sessions and would love to see lots of you there to help with us with our publicity drive. So, if you think you're able to make it put the dates in your diary!
Our Next Meeting is being held on Tuesday 3rd March when Maarten de Vries is giving a talk called "Is the Earth Flat?" That should be fun and has the potential for stimulating some debate!
Feedback Sheets & Pencils are on your tables
Again, please give us comments on the good/bad points of this meeting and the Club in general
This is proving very useful to us and helping us to make small but key changes to our Club and make it fit & sustainable for the 21st century.
Dave's Monthly Club News report (presented at the meeting by Eric) is attached as a PowerPoint presentation
The presentation contains news, updates, and photos of the following
Constellation of the Month: Taurus
Observatory Activities
Project 21C-ObSee
Members' Photos
Visitors
Upcoming Observing Sessions
Clear skies
Eric